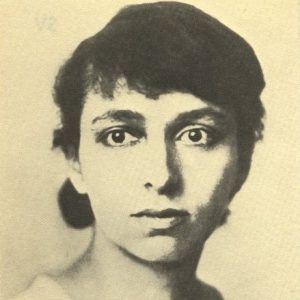 "To live with our shadow is to understand how human beings live at a frontier between light and dark".
(David Whyte).
"I shall die as most will die; the rake will pass through my life
And comb my name back into the soil.
Light, speechless, childless, I shall stare weary-eyed at the barren sky".
(Gertrud Kolmar)
In November 2007, whilst vising my cousin and her husband at their home in Winchester, I picked up a printed guide recently brought back from the Berlin Holocaust Museum and stumbled across the above quote by the poet, Gertrud Kolmar. I was immediately intrigued and once I started to discover her poetry proper, utterly smitten.
I found her work, although written in a time of such extreme darkness and often evoking the darkest of experiences, to be strikingly full of life, colour and vibrancy – revealing a life of vivid, awakened experience. I found myself becoming deeply interested in both her life and her work.
I discovered that most all of her poetry (including two works of fiction) was written during the 1930s. When WW2 was declared, Kolmar was living in Berlin taking care of her ageing father until in 1943, following his deportation to a concentration camp, she herself was deported to Auschwitz, where she was murdered.
My curiosity was well and truly piqued. If she was such a remarkable writer, as so declared by those who knew about her and her work, how come she seemed to be so generally unknown? Despite many opinions on this, this is still a most interesting, worrying and perplexing question.
Back to November 2007, I felt immediately drawn to set some of her words (albeit mostly in translation) to music and I chose Aus Dem Dunkel from her Welten cycle as the main text for a cantata, which I called by the same name (in English) Out of the Darkness. This turned out to be the first of a series of works that are now known under the collective title The Welten Project.
Martin Sheen, the actor, has been quoted as saying that creating community starts with "surrendering to our brokenness". The many researches and ideas associated with the study of shadow that I am aware of, (the word, shadow, being coined by Jung – pointing to those aspects of ourselves, our lives and society that we may wish to exclude, to exile) back this up entirely. In my own therapeutic endeavors, I also have found this to be evidently true – not least in offering an access into a much deeper relationship with my creative process. I would add that this surrendering to our brokenness, this vulnerability seems especially relevant at a time when the opposite – the callus domination of righteous belief and behavior – seems so abundantly evident in our world.
Gertrud Kolmar was clearly a woman who understood, deeply, the meaning of living with shadow – that, to point to the above quote by David Whyte, it really is the case that 'to live with our shadow is to understand how human beings live at a frontier between light and dark".
For me, as much as I may sometimes yearn for a 'one-way ticket' to the transcendent I generally find a more powerful experience arises when the transcendent appears to shine through the very cracks in our humanity. It is this that draws me to submit to a process whereby I am not looking so much to create an experience of the transcendental as let it reveal itself through the process of bringing music to, in this case, appropriately potent text. Kolmar's poems offer a wonderful gift to the composer in this regard as this quality, this 'lifefullness', seems to lie enshrined in every word.
For full details and news relating to The Welten Project please visit www.julianmarshall.co.uk