"I did some crazy things when I was younger"
The Ukrainian tenor talks about looking after your voice, having the courage to turn down roles, and why being a singer is a lot like playing professional basketball.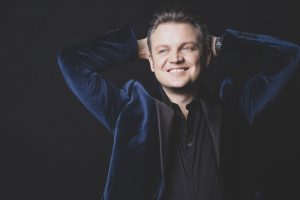 Why an album of songs about love? Love is the only way to survive right now! Actually I didn't plan to release the album during a pandemic. We recorded it almost two years ago in Berlin, where I live with my wife and our two-year-old son. But I know we need to hear these positive pieces more than ever at this time.
People are depressed right now. I wanted to release my CD before Christmas as a way of promoting a good mood. All of these arias are very optimistic and full of love; there's no drama, nobody dies! If my recording will touch only a thousand people, that will make it worthwhile for me. It's very important for singers to feel this connection, especially when we cannot perform to the public. And anything we can do to lift people's spirits has to be good.
Yes, I have a baby face but I'm not so young anymore. I'm forty now and have been singing lead roles on the world's big stages for almost twenty years. I feel that in ten years or so from now I won't be able to go onstage with about half of the characters on this album because they will be replaced by others.
My voice is changing. That's why, after singing these roles so many times, I wanted to record what I've learned about them and preserve some of that youthfulness while it's still there. It was important to do it now and not wait for another ten years.
I have to take care of the voice these days and be kind to myself. I did some crazy things when I was younger. Even ten years ago, I remember getting up at 4am, taking two flights to an audition, singing five arias for a casting director then flying off to another city for an evening performance. And I did the same thing the following day! My gosh, I can't imagine doing that now. You can do that before you turn thirty, then your body starts telling you to take it easy.
I've been very lucky not to have any vocal cord injuries. Singing at this level is like playing professional sport. I'm a big fan of NBA, the National Basketball Association league in America. Only a few of their star players, like LeBron James and Kobe Bryant, have escaped serious injury; many are out of the game injured for months or years, and it's really difficult for them to start again. After too many exhausting concerts or big dramatic roles, singers often need surgery on damaged vocal cords. You have to say no when you know a role is too heavy or not right for the voice, but that's not always easy to do.
Teaching is very important to me. I've been teaching for almost seven years and have learned so much about the voice and about singers. Sometimes people come to a masterclass who have a voice but no talent! I ask them why they want to sing in opera; they tell me it's easy money. Maybe it is when you've done just a few concerts. But you have to be totally in love with opera to stay in this business. You will meet some conductors and stage directors who want you to do things that make big demands on the voice. And you will have to deal with unexpected things that happen onstage. You have to be in love with the artform, with your voice, your profession and, above all, with the people for whom you perform. Only love of this kind can help you survive, not love for the money. If you love it and have the talent, then everything is easy!
I began my career when I was seventeen as a lyric baritone in the opera chorus in Kharkov. Step by step my teacher at the conservatoire there converted me into a lirico-spinto tenor. It will come naturally, he told me. "The power will come by the time you're thirty-five. Look after the lyric quality in your voice until then. And if you still have that baby face, use it for as long as possible to sing Alfredo, Rodolfo, Lensky and Vaudémont in Iolanta." He explained that the lirico-spinto repertoire would come to me by the time I turned forty. As the voice improved and became more secure I moved to Kiev, where I sang as soloist with the opera company and finished my training at the conservatoire in Kiev. Like my teacher in Kharkov said, everything developed naturally after that.
The two ideal roles for me today are Bizet's Don José and Riccardo in Verdi's Un ballo in Maschera. I've sung them many times around the world and feel ready to sing them anywhere. Everyone invites me to sing Turandot now. Yes, I could do it. But it would risk damaging the voice; too many singers have harmed their voices by singing heavy roles too soon. This is all about knowing your voice, knowing your body. You have to be like your own doctor and adviser, understanding what you're doing well, what you're doing that's not helpful, and how to put it right.
My dream is to sing Andrea Chenier five or six years from now. Turandot will come later and then perhaps a role like Herman in Tchaikovsky's Pique Dame that would show my whole range of emotions and vocal expression.
In my experience Covent Garden is the best theatre in the world. The atmosphere there makes it feel like you're singing at home! Everyone wants to help you; there's no pressure like there is in many other great opera houses. I still have things to give in the lyric repertoire over the next ten years and would love to sing Gounod's Faust or Roméo at Covent Garden.
We don't know when we will be able to perform again, even though it's clearly much safer to sit in a theatre than to mix with people in a bar or a club. It will be a great pity if our business dies. But I believe it will come back stronger than ever and, when it does, we'll be ready to move people again with great music.
Dymtro Popov's new album, Hymns of Love, is out on November 20th.
Listen to clips and order your copy here