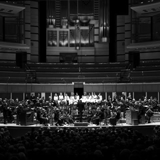 Ex Cathedra soloists, choir and baroque orchestra
Jeffrey Skidmore
JS BACH
ST MATTHEW PASSION
Ex Cathedra
Jeffrey Skidmore
ORC 100007
Read more about this album

JOY IN THE MORNING
Ex Cathedra
Jeffrey Skidmore
ORC 100008
Read more about this album
From its home in Birmingham, Ex Cathedra has established an international reputation as a leading UK choir and Early Music ensemble.
Under founder and Artistic Director Jeffrey Skidmore, Ex Cathedra is known for its vibrant performances and a passion for seeking out not only the best but the unfamiliar and the unexpected in the choral repertoire.
Since its formation in 1969, Ex Cathedra has grown into a unique musical resource, comprising specialist choir, vocal consort of 8-12 voices, period-instrument orchestra and thriving education programme.
Recent years have seen a major increase in Ex Cathedra's national and international reputation thanks to its trail-blazing performances of Early Music – in particular the French and Latin American Baroque – and its role as a leading exponent of choral training and vocal skills education.
Ex Cathedra presents its own subscription season of concerts – which spans music from the fifteenth to twenty-first centuries – in the West Midlands and London, and is an Associate Artist at Town Hall, Birmingham.
The group is also delighted to receive invitations to appear at festivals and concert series across the UK and Europe. Performances have included the Aldeburgh, Aranjuez, Canterbury, Chelsea, Chichester, Kilkenny, Lichfield, Lufthansa, Newbury Spring, Poissy, Santiago de Compostela, Salisbury, Stratford, St David's and Three Choirs festivals.
Jeffrey Skidmore is one of the country's foremost choral conductors and is highly regarded by instrumentalists, singers and audiences for his thoroughly researched and carefully crafted programmes and the high quality of his performances.
He read music at Magdalen College, Oxford, before returning to his native Birmingham to develop Ex Cathedra into the internationally-acclaimed choral group it has become today.
Directing Ex Cathedra, Jeffrey has appeared in concert series and festivals across the UK and abroad and made a dozen highly-acclaimed recordings. He has worked with a number of other ensembles, including the CBSO, the OAE, and the BBC Singers.
In recent years Jeffrey has conducted many world premieres and commissioned new work from a wide range of established and new, young composers, such as Hutchins, Jackson, Joubert, Roth, Runswick, Sculthorpe, Shepherd, Wiegold and Williams.
Jeffrey is a pioneer in the field of research and performance of neglected choral works of the 16th, 17th and 18th centuries, and has won wide acclaim with Ex Cathedra, in particular for his recordings of French and Latin American Baroque music. An Honorary Fellow at Birmingham Conservatoire and a Research Fellow at the University of Birmingham, he has prepared new performing editions of works by Araujo, Charpentier, Lalande, Monteverdi and Rameau.
Jeffrey is Artistic Director of the Early Music Programme at Birmingham Conservatoire and Director of Ex Cathedra's wide-reaching and innovative education programme. He frequently gives choral training workshops and teaches at summer schools in the UK and overseas. He has regularly directed the choral programme at Dartington International Summer School and was Classical Music Programmer for the 2005 Kilkenny Festival.