Joseph Shiner's Brahms playlist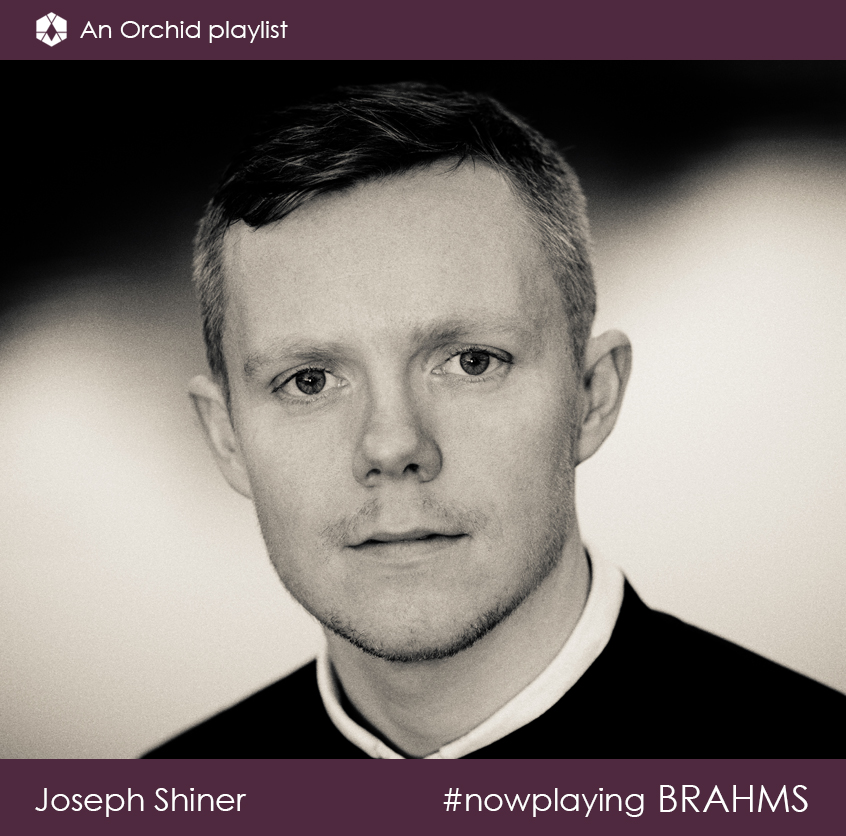 #nowplaying
It's fair to say that clarinettist Joseph Shiner has a very deep love for the music of Brahms.
We asked Joe to share a playlist of the tracks that have brought this love to the fore, leading to his own Brahms collaboration with Somi Kim and Yoanna Prodanova.
You can read Joe's thoughts on his picks below, and listen to the playlist on Spotify.
Brahms: Piano Concerto no. 1 in D minor op. 15, I: Maestoso
Krystian Zimerman, Simon Rattle, Berlin Philharmonic Orchestra
This is the young maestro Johannes in his orchestral debut, at his most epic, energetic and thrilling.
Brahms: 6 Klavierstücke op. 118, II: Intermezzo in A major
Emanuel Ax
In contrast, the elder Brahms is tender, intimate and heartfelt.
Brahms: Double Concerto for violin and violoncello in A minor, op. 102, II: Andante
Itzhak Perlman, Mstislav Rostropovich, Bernard Haitink, Royal Concertgebouw Orchestra
This lush movement, initially criticised by Clara Schumann for being 'not brilliant for the instruments', nonetheless features passionate unison writing that anticipates similar treatment of the clarinet and 'cello in the Trio, particularly in the slow movement.
Schubert: Abendstern, D806 'Evening Star'
Anne Sofie von Otter, Bengt Forsberg
In a letter to his pupil and colleague Gustav Jenner, Brahms wrote that 'the true successor to Beethoven is not Mendelssohn, whose artistic cultivation was quite incomparable, also not Schumann, but Schubert. It is unbelievable, the music he put in his songs. There is no song of Schubert's from which one cannot learn something.'
Brahms: Sonata for violin and piano no. 1 in G major, op. 78, I: Vivace, ma non troppo
Nikolaj Znaider, Yefim Bronfman
In this sonata, also called Regensonate or 'Rain-Sonata', Brahms reuses themes from his songs 'Regenlied' and 'Nachtklang', displaying the extent to which vocal qualities permeate his instrumental music.
Mozart: Clarinet Quintet in A major K581, II: Larghetto
Anthony McGill, Pacifica Quartet
Mozart was the first in an illustrious lineage of composers to be inspired by great clarinettists, followed by Weber, Brahms, Copland and Poulenc. In this movement he reaches the peak of his melodic powers, imbuing sublime simplicity with emotional depth.
Brahms: 6 Lieder op. 86, II: Feldeinsamkeit 'Alone in Fields'
Thomas Allen, Geoffrey Parsons
'I rest at peace in tall green grass
And gaze steadily aloft,
Surrounded by unceasing crickets,
Wondrously interwoven with blue sky.
The lovely white clouds go drifting by
Through the deep blue, like lovely silent dreams;
I feel as if I have long been dead,
Drifting happily with them through eternal space.'
Translation by Richard Stokes
Weber: Clarinet Quintet in B flat major op. 34, IV: Rondo – Allegro giocoso
Sabine Meyer, Academy of St Martin in the Fields
The virtuosity of the clarinettist Heinrich Baermann prompted Weber to write several works including two concertos and this quintet, the final movement of which practically overflows with glittering charm.
Brahms: Sonata for violoncello and piano no. 2 in F major, op. 99: Allegro vivaceTorleif Thedéen, Roland Pöntinen
Dedicated in 1886 to Robert Hausmann, who would go on to premier the Double Concerto with Joachim the following year, this movement features one of Brahms' most impassioned openings to be found in any of his chamber works.
Schumann: 'Ghost' Variations in E flat major
Igor Levit (live)
Before he was admitted to a mental hospital, Schumann wrote down a theme that he said was dictated to him by angels, not recognising that he had in fact composed the theme previously. During work on the composition he threw himself into the Rhine, but was rescued. The next day he competed the work and sent it to his wife, Clara. Brahms later wrote his own set of variations for piano four-hands (op. 23) upon the same theme.
Brahms: Clarinet Quintet in B minor op. 115, III: Andantino – Presto non assai, ma con sentimento 
David Shifrin, Emerson Quartet
The largest scale work produced by Brahms during his 'india summer' of creativity, the Quintet is one of four works that showcase the lyrical and emotive abilities of clarinettist Richard Mühlfeld, referred to by Brahms as 'Fraülein Klarinette'. This enigmatic scherzo is, however skittish, tinged with a hint of serene resignation.
Brahms (arr. Joachim): Hungarian Dance in G minor
Itzhak Perlman, Vladimir Ashkenazy
Joseph Joachim was one of Brahms' most significant friends and collaborators, and this miniature displays the Hungarian magyar influence that pervades much of Brahms' music.
Brahms: Symphony no. 4 in E minor op. 98, I: Allegro non troppo
Nikolaus Harnoncourt, Berlin Philharmonic Orchestra
In his final completed symphony, Brahms combines his inexorable and rigid processes of thematic and harmonic development with romanticism and pathos. The music creeps in with one of the most heartbreakingly beautiful, and tortured melodies he wrote, which seems to reach up hopefully before winding back on itself.
Brahms: Da unten im Tale 'Down There in the Valley'
Elisabeth Schwarzkopf, Gerald Moore
A short setting of an anonymous poem in Bavarian dialect, published as one of a set of 49 German Folksongs. In it Brahms masterly captures the bittersweet melancholy of a conversation between two lovers, one of whom has been unfaithful to the other.
'Down there in the valley
The water runs so murkily,
And I cannot tell you
How much I love you.
You speak only of love,
Speak only of constancy,
And a bit of falsehood
Goes with it too.
And if I tell you ten times
That I love you,
And you don't understand –
I shall have to go on my way.
For the time that you loved me,
I give you thanks,
And wish that elsewhere
You might fare better.'
Translation by Richard Stokes