Yu Kosuge's multi-year, four album project comes to a close
Many years in the making, and including some of the most magnificent of all piano repertoire, the Four Elements cycle from Yu Kosuge came to a close this January with the final volume: Earth.
Below we've brought all the volumes together, along with some of Yu's own writing on each.
______________________________________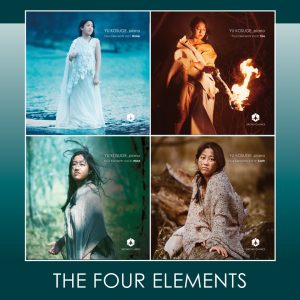 "The four elements are unified through Love (Philia) into one cosmos, andseparated by Strife (Neikos). They are the roots of everything: past, present  and future."
Empedocles (c.483 – c.423 BC)
"Our daily life has become routinely convenient in today's society. We can get in touch with others wherever we are, and can travel anywhere easily. However, we could ask ourselves if our way of life is natural: are the depth of our relationships with one another, and our way of sharing time getting closer to the essence of humanity, or are we moving away from it? What is the meaning of our life nowadays?
Through "Four Elements", those most essential to our universe, I wish to face these questions with my audience. Passed on by many philosophers from diverse eras since before Christ, the four-element theory has been interpreted differently in each cultural, religious or national background, giving birth to numerous myths and thoughts. Musically speaking, the four elements inspired composers' imaginations to create not only images or impressions but also works with profound metaphoric messages based on literature or philosophy. These abundant pieces differ widely from each other; from clear, subtle or pure to cruel, passionate or demonic. Even if belonging to a fantasy or imaginary world, their poetry and emotions are always connected with our reality. I would like to visit these works born by nature to explore the origin of this wonderful world and the beauty of our life itself."
Yu Kosuge